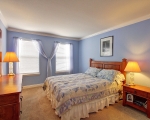 Just to introduce you to what this page will be, we will write anything and everything real estate related. From photography tips and tricks, or how to prepare a home for photos, what's the best time for photos, what to do about pets etc. We may toss in some funny stories about weird shoots or requests, because in 7 years of shooting homes in Denver trust me, we have a lot of stories! We may even publish some things that our expert realtors have to say as well.
For now we just wanted to tell you what you could expect from the blog, but if I could leave you with one little tiny tip for today it's this: Light bulbs. No brainer right? I don't have any official statistics on it, but I would say roughly half of the homes I photograph have at least one burned out light. The home owner always has a great excuse, 'We never use that light so we didn't know it was burned out' 'That light was working fine this morning' 'The cat must have jumped up and hit it' 'The dog must have thrown the cat at it' and on and on. But of course you know the bottom line, a home with burned out lights is a signal to the buyer that it's a home not being properly cared for. Something as simple as a light bulb can turn a home buyer away.
You can also give us your suggestions on what to write about, we do requests! That's it for now, Happy Selling!